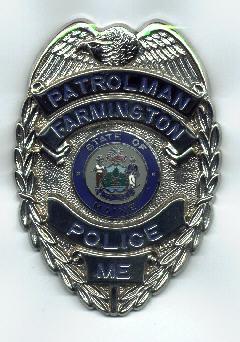 POLICE OFFICER POSITION
The Farmington Police Department is looking for highly motivated, community oriented fulltime police officers. We offer a competitive salary and benefit package including a 20 year/no age retirement plan.
Applicants must be at least 21 YOA or 20 YOA with 60 college credits, completed phase 1 of the Law Enforcement Pre-Service training, and have passed the MCJA BLETP entrance level physical fitness test within the past year. Candidates will be required to pass an oral board, polygraph, medical, psychological test and an extensive background check.
Please apply by sending a current resume, employment application, a copy of a passing MCJA PAT score taken within the last year, and a copy of MCJA Alert Test score. Applications can be obtained by e-mailing This email address is being protected from spambots. You need JavaScript enabled to view it. or by contacting:
Chief of Police
Farmington Police Department
116 Franklin Avenue
Farmington, ME 04938
207-778-6312
Faxed applications will not be accepted. Applications will remain open until the position is filled.
The Town of Farmington is an Equal Opportunity Employer.

Click here to download a PDF copy of the Town of Farmington Application for Employment.