Our Mission at the Farmington Public Works Department is to work effectively and efficiently in serving the community and in collaboration with other departments, by contributing to the safety, health and quality of life of its citizens and visitors.

Major responsibilities of the Public Works Department:
120 miles of winter roads
90 miles of summer roads
9 miles of sidewalk maintenance and repairs
General maintenance of the right of way – Pavement markings, sweeping, roadside mowing, curb repair, street signs, ditching, and pothole patching.
Capital project support –Project management and cost estimating; as well as performing work not contracted like loam and grass seeding, final clean up, adjusting and installing culverts and drainage structures, sidewalk construction, and hand placed asphalt paving.
Equipment maintenance and repair – Operation of the town garage, regular maintenance and repair of all fleet vehicles and equipment.
---
Geographic Information Service (GIS)
The Town of Farmington's Geographic Information System (GIS) provides access to digital Tax Parcel data as well as other GIS data layers and ortho imagery. Click here to access the online link.
---
employment opportunities
TRUCK DRIVER / LABORER
The Town of Farmington is currently seeking applications for the full-time position of Truck Driver/Laborer in the Public Works Department. Duties include operating heavy and light equipment, plowing and sanding roads in the winter, and manual labor. The employee in this position performs a variety of unskilled, semi-skilled and skilled tasks in a variety of weather conditions, and must possess the stamina to work long hours. Night, weekend and holiday work may be required. Valid State of Maine Class B Commercial Driver's License with good driving record and mandatory pre-employment drug screening required. Snow plowing experience preferred. Competitive wage and benefits are provided, including health insurance and retirement program. Please send cover letter and resume to Philip Hutchins, Public Works Director, Town of Farmington, 153 Farmington Falls Road, Farmington, ME 04938. The application period will remain open until the position is filled. EOE
MECHANIC
The Town of Farmington, Maine is currently accepting applications for the position of Mechanic in the Public Works Department. The successful candidate will be responsible for maintaining the Town's vehicles and other mechanical equipment, supervising other employees when specifically assigned, maintaining records pertaining to repairs and maintenance, and formulating daily, weekly and monthly work plans for proper maintenance of vehicles and equipment. Excellent communications and public relations skills are a must.

The Mechanic's duties include maintaining and repairing all Town equipment and vehicles including, but not limited to trucks, tractors, graders, rollers, loaders, backhoes, and other similar equipment. The Mechanic must also be able to operate these pieces of equipment in an acceptable manner and must be familiar with road maintenance work such as ditching, culvert replacement, patching, materials handling, and similar roadwork. The Mechanic may be called upon to assist with snow removal work and other duties as assigned. The Mechanic also keeps records on equipment repair, scheduled maintenance work, and parts inventory.

Applicants for this position must have the ability to frequently lift and/or move up to 10 pounds and occasionally lift and/or move up to 100 pounds; possess a valid Maine Class A or B Commercial Driver's License; have at least a high school, tech school, or vocational school education; have experience with computer diagnostics; be willing to work outside, occasionally in inclement weather; be available for work as needed on nights and weekends and reside within 30 minutes of the borders of the Town of Farmington; and pass a pre-employment background check and drug screening. The successful candidate will also hold a State of Maine Class D Motor Vehicle Inspection License for light and heavy vehicles or be able to obtain same within six (6) months of employment. Qualified applicants must have five (5) years of experience as a mechanic and extensive welding and fabricating experience.

Applications are available at the Farmington Town Office, 153 Farmington Falls Road, Farmington, ME 04938, or online at www.farmington-maine.org under Municipal Departments: Apply for a Job. Applications will be accepted until August 17, 2018 at 2:00 PM. To apply please send completed applications with letters of interest and salary requirements to:

Town of Farmington
ATTN: Mechanic Position
153 Farmington Falls Road
Farmington, ME 04938

EOE
---
Town of Farmington Public Works Department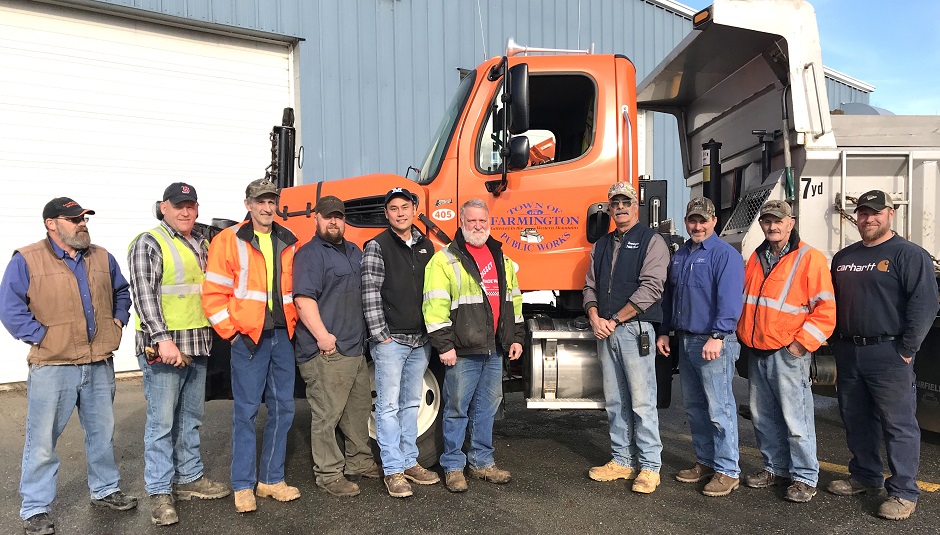 L to R – Ted Collins, Patrick McHugh, Ron Jalbert, Conley Gould, Jr., Director Philip Hutchins, Andy Leavitt, Foreman Jim Kiernan, Foreman Scott Bouchard, Fred Barton, and Highway Shop Foreman Jon Alexander.