---
rsu 9 superintendent search survey
The Superintendent Search Committee has created an anonymous survey to gather information on the priorities our community values in a superintendent.Your input is valued and will be helpful in the search process. The survey will only take you a few minutes to complete. The survey will close on 2/12/21. Click here for the link to the survey.
---
Free food boxes
The Healthy Community Coalition will be distributing free food boxes at 105 Mt. Blue Circle, Farmington. Click here for the dates and times.
---
Maine cdc
Notification of a case of animal rabies in a raccoon was recently identified in Farmington. Click here to download the official letter.
---
Notice of drilling and blasting
Maine Drilling and Blasting will be conducting rock drilling and blasting for the Farmington Solar Project. Click here to download the pre-blast notification letter.
---
operation santa claus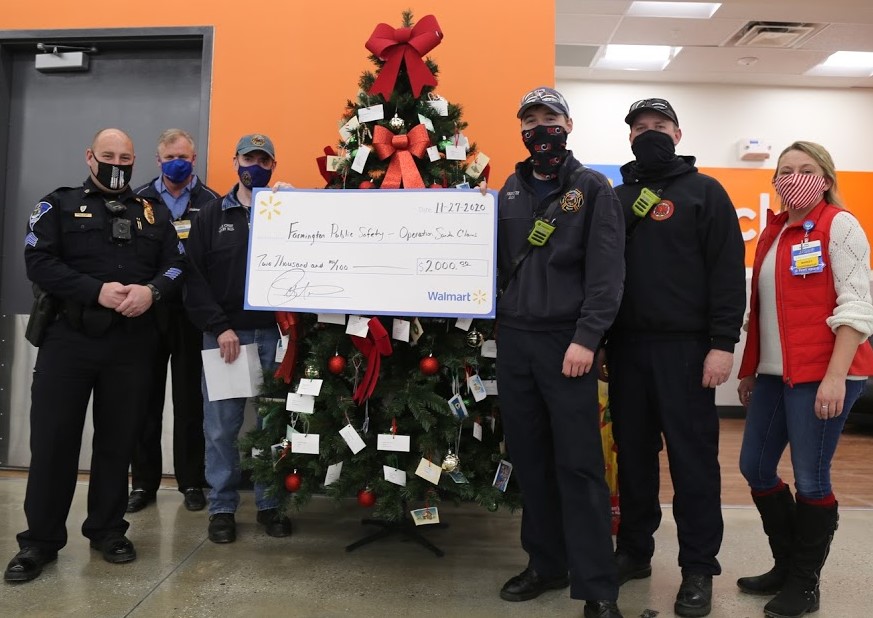 L to R: Sgt. Ed Hastings, IV, WalMart Store Manager Greg Patterson, Chief Terry Bell, Firefighter Evan Dorr, Captain Tim D. Hardy, and Jessie White. Photo courtesy of Scott Landry.
Members of the Farmington Police and Fire Rescue Departments went on a shopping spree on Black Friday to support the local Operation Santa Claus program. The collaborative effort contributed to the program by purchasing $2,000, donated by WalMart store manager and store employees, of toys for families in need. The program is now being administered through the Farmington Elks Lodge, and WMCA will remain a support system for the Elks as the program goes forward. Applications can still be obtained at WMCA but must be returned to the Elks.
---
town office
The lobby is limited to five (5) customers maximum and social distancing must be observed. All customers must wear face coverings for their protection and that of our employees. We will be cleaning/sanitizing regularly, and we will also have hand sanitizer available for customer use.
We have a drop box available for citizens who do not want to come into the building or would prefer to drop off their transactions. Citizens may also mail information to the Town of Farmington, 153 Farmington Falls Road, Farmington, ME 04938.
Staff will be available to answer phones, but due to high call volume citizens may get our voicemail. Please leave a message and we will return your call as soon as possible. We apologize for any inconvenience. Our Office number is 778-6539. We can also still be contacted via email (please go to our webpage at https://www.farmington-maine.org/municipal-departments/departments/administration for email addresses).
The Police Department lobby is limited to one (1) customer maximum in order to observe social distancing. The Police Department can also be contacted through the non-emergency number at 778-6311. In case of emergency, call 911.
The Farmington Transfer Station will remain open during its regular hours, however, the Swap Shop will remain closed until further notice. Residents using the facility are required to maintain social distancing, and face coverings are recommended. We appreciate your understanding as we try to maintain our services but reduce exposure to employees as well as our citizens.
The Public Works Garage (778-2191), Community Center (778-3464) and Waste Water Treatment Facility (778-4712) offices will remain closed to the public, but citizens are encouraged to call with questions or concerns.
Citizens also have several options to conduct some of their municipal business online. If you have questions about these services, please call us at 778-6539.
---
town office online services
In keeping with the CDC and WHO's recommendation to implement social distancing to help slow the spread of the virus, we want to share the following information. Citizens have the following options to conduct municipal business:
Renew Your Vehicle Registration: This can be done through a link on our website. Go to www.farmington-maine.org/motor-vehicle-registration and click on the Rapid Renewal link. You will need your old registration, insurance card and mileage.
Re-register Your ATV, Boats and Hunting & Fishing Licenses: This can be done on the State's website at http://www.maine.gov/ifw/ and scroll down the page to "Information for Your Maine Outdoor Adventure" and there are links to buy your hunting and fishing license, register your ATV or Boat, etc. You will need your old license and a printer. The online boat registration link is https://www5.informe.org/online/boat/ . If you have questions on re-registering online, please give us a call at 778-6539.
New Registration: Dealer Sale Can be Emailed
Blue Application for Title (MVT-2)
Invoice showing Sales Tax Paid
Insurance
Color of Vehicle
New Registration: Private Sale Mailed Only
Title or Blue Copy of Application for Title (from your lienholder)
Bill of Sale (Original)
Insurance (Can be emailed)
Color of Vehicle
Other
Pay Your Taxes and Sewer Bill: Although we cannot accept payments online, we do accept credit and debit card payments by phone during regular business hours. Please note that a convenience fee of 2.5% will be added to each transaction. We accept checks for your payment mailed to Town of Farmington, 153 Farmington Falls Road, Farmington, ME 04938. Documents and payments can be deposited in the secure drop box to the right of the main entrance of the Town Office. If you need a receipt sent to you, please include a self-addressed stamped envelope with your payment or you may include your email address for an email receipt. Please also include your phone number on your payment in case there are any questions. We also recently sent out Declaration forms.
Request an Absentee Ballot: This can be done on the State's website at: www.maine.gov/cgi-bin/online/AbsenteeBallot/index.pl or by calling us at 778-6539 or emailing the Town Clerk at to request an application.
Although we enjoy seeing our community members in the office, in light of the current Coronavirus/COVID-19 recommendations, please take advantage of the options above to help us reduce the spread of the virus. As always, feel free to contact us at 778-6539 Monday – Friday 9:00 A.M. – 5:00 P.M. or email Mavis Gensel- Annie Tibbetts- Bonnie Baker- You can also go to our Administration page for further contact information.
Thank you for your cooperation during this public health emergency. We urge you to follow the CDC guidelines and stay well.
---
Farmington Welcomes new plumbing inspector
Andrew Marble is the new Plumbing Inspector for the Town of Farmington. He can be contacted at 779-4858 or Click here for more information.
---
Employment opportunities
Click here to see the current positions.
---
2020 CENSUS
By April, 1 2020 every home will receive an invitation from the U.S. Census Bureau to participate in the 2020 Census. Census can shape manuy different aspects of our community. The Census results help determine how billions of dollars in federal funding flow into states and communities each year, and also determine how many seats in Congress each state gets. Click here to read more about the 2020 Census.
The U.S. Census Bureau is accepting applications for a variety of jobs, including census takers, recruiting assistants, office staff, and supervisory staff. Click here to go to thier website for more information.
---
Maine CDC - rabies notification
Maine Center for Disease Control and Prevention has notified the Town of Farmington of a reported case of animal rabies in a skunk. Click here for the notification letter. Click here for the Rabies Fact Sheet. Click here for the Rabies Poster. Click here for Rabies in Maine 2019.
---
dog licenses
The State of Maine requires that dogs be licensed in the town of residence of the owner. Each dog six months of age or older must be licensed.
Dog licenses expire on December 31st of each year. An additional late fee of $25 will be imposed after January 31st of each year.
The cost at the City Clerk's office is $6.00 for an altered dog, $11.00 for an unaltered one. To receive a license, dog owners must show a State of Maine rabies certificate, a spay or neuter certificate, and provide your dog's veterinarian's name and phone number (if this information isn't already on file at the Clerk's office).
To register your dog online, the following link will take you to the State's website: https://apps1.web.maine.gov/cgi-bin/online/dog_license/index.pl
---
Bus Services
Western Maine Transportation Service (WMTS) has established a commuter bus route between Farmington and Lewiston-Auburn that runs Monday through Friday. Click here to see the schedule and fare information.
WMTS also has public bus service running between Rangeley, Phillips, Strong, and Farmington every 2nd Tuesday of the month. Click here for more information or call 800-393-9335.
---
Russells Mills Road Bridge Closed
The Russells Mills Road bridge has been closed indefinitely by MDOT due to structural deficiencies. For more information please call the Divisional Engineer at 562-4228.
---
Waltons Mill Dam
Click here to download a PDF of the Walton's Mill Dam Removal and Park Improvement Project Update.
---
CREDIT CARD AND DEBIT PAYMENTS
The Town of Farmington is now accepting credit and debit card payments in person at the Municipal Building during regular business hours. Please note that a convenience fee of 2.5% will be added to each transaction. We hope that you find this service convenient and useful in your future transactions with the Town of Farmington.
---
Maine's Unclaimed Property Program
Unclaimed Property consists of money and other personal assets that are considered lost or abandoned when an owner cannot be located after a specified period of time. Unclaimed Property does not include real estate, animals or vehicles.

You can search the Treasurer's Unclaimed Property List at www.maine.gov/upsearch